Dr. Yoon Chang joined Argonne National Laboratory in 1974 and has been responsible for leadership of advanced reactor design and fuel cycle technology development activities in positions of increasing responsibility including: General Manager of the Integral Fast Reactor Program, 1984-94; Associate Laboratory Director for Engineering Research, 1998-02; Interim Laboratory Director, 1999-00; Associate Laboratory Director at Large, 2002-06; and Argonne Distinguished Fellow, 2006-08. He retired in November 2008. Currently he also serves as the Chair of IAEA's Technical Working Group on Nuclear Fuel Cycle Options and Spent Fuel Management.
Dr. Chang's most significant achievement is in the development of the Integral Fast Reactor (IFR) concept. In recognition of his technical analyses, decisions and leadership of all aspects of the IFR program, he was awarded the U.S. Department of Energy's prestigious E.O. Lawrence Award. He is a Fellow and a recipient of the Walker Cisler Medal of American Nuclear Society.
The Story of the Integral Fast Reactor: The complex history of a simple reactor technology, with emphasis on its scientific basis for non-specialists
Authored by Charles E. Till, Yoon Il Chang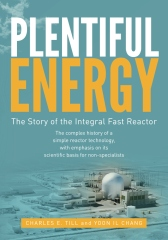 The Integral Fast Reactor (IFR) is a fast reactor system developed at Argonne National Laboratory in the decade 1984 to 1994. The IFR project developed the technology for a complete system; the reactor, the entire fuel cycle, and the waste management technologies were all included in the development program. The reactor concept had important features and characteristics that were completely new and fuel cycle and waste management technologies that were entirely new developments. The reactor is a "fast" reactor - that is, the chain reaction is maintained by "fast" neutrons with high energy - which produces its own fuel. The IFR reactor and associated fuel cycle is a closed system. Electrical power is generated, new fissile fuel is produced to replace the fuel burned, its used fuel is processed for recycling by pyroprocessing - a new development - and waste is put in final form for disposal. All this is done on one self-sufficient site.